Welcome to another of Organica J's Top Ten Uses! This month will be focusing on 10 helpful uses for my Orange and Frankincense Blend. This blend is incredibly popular at the run up to Christmas, but it properties and benefits go way beyond being just a Christmassy scent. When working as a clinical aromatherapist I often blend these two oils together, as they have such a great synergy. Below you will find some of the uses I have for the blend.
I actually made this blend after a friend wanted to use some oils to scent some cones candles etc leading up to Christmas to give that lovely evocative festive feel, but she wanted truly natural with no synthetics. She also wanted her children to be involved with the project, and so orange and frankincense blend was perfect. I also do a Spicy Blend, which contains clove and cinnamon, which are not suitable for skin contact and are excellent for inhalation only. Spicy blend would be ok for adults wearing washing up gloves for this type of craft work.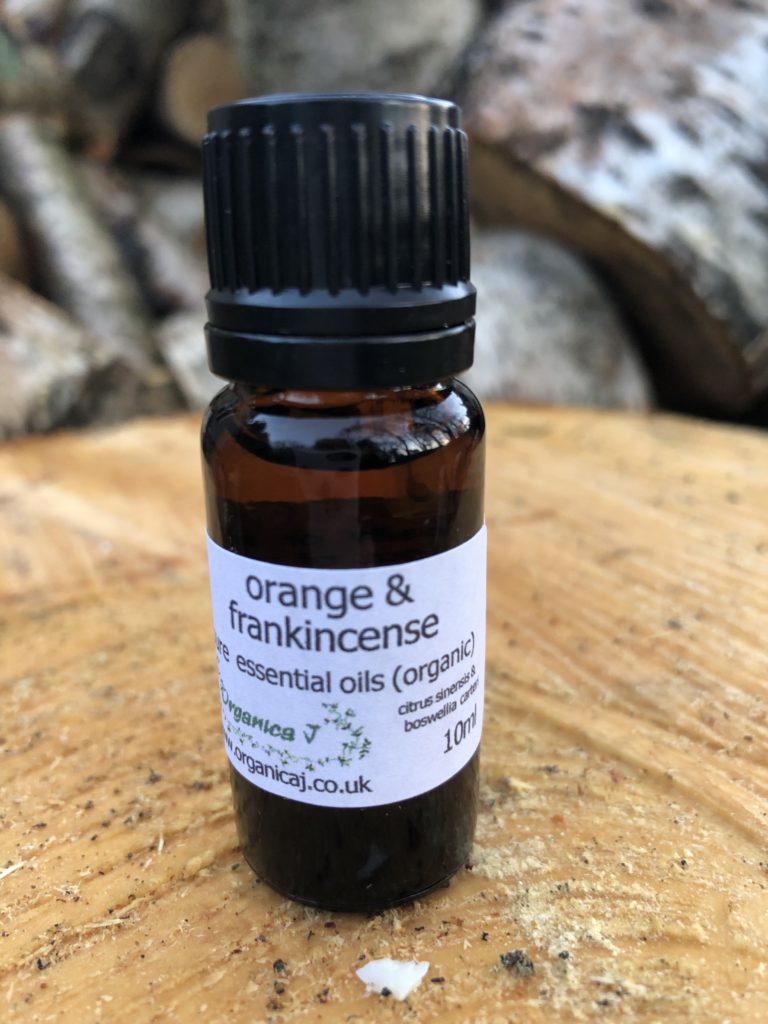 1. for a festive scent, add a few drops on pine cones and place in a bowl or use in a diffuser or burner.
2. very calming & de-stressing
3. is generally gentle enough for use with the young (3 plus unless with professional direction) and the elderly
4. can be helpful for oily skin and also mature skin
5. may gently calm irritability and restlessness
6. great as a gentle uplift in darker, colder days
7. may help movement forward in life
8. can assist you embrace new challenges and ease self doubt
9. may help with easing naturally into sleep
10. useful for skin regeneration and wrinkles
The sweet orange oil I have in stock right now is from Spain and the the frankincense is from India . The blend is slightly orangy in colour, and is a easily poured liquid (although don't worry the bottles all come with a dropper cap for easy drop by drop use – but it will drop out quickly, so tip the bottle slowly to dispense), It has a fabulous festive scent, sweet with tones of musky fragrance.
If you wish to use this blend on skin always blend in a carrier oil, as a rough guide 1 drop of blend to 5ml of carrier oil
If you feel this would be a useful oil for you, you can buy Orange and Frankincense essential oil blend here from Organica J.
For using essential oils for specific or complex medical problems always contact a qualified aromatherapist or check with your GP.