Orange and Frankincense Essential Oil Blend
0EOB04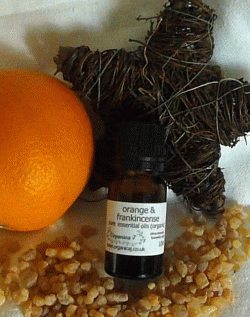 Hand blended using organic essential oil of sweet orange and frankincense
This blend can be helpful for stress, insomnia and anxiety. Create a soothing atmosphere around you. Excellent for use over the festive time or indeed all year round.
Ideal for use in an oil burner/diffuser all you need is a few drops diluted with water in an oil burner.
If using on skin or in the bath always dilute any essential oils with a carrier oil eg sunflower or sweet almond.
10ml