Organic Aromatherapy and Comfrey
Scottish comfrey ointment, organic handmade soaps, organic essential oils, natural beeswax candles
gardeners hand balm
organic calendula ointment for eczema-prone skin, organic bath and body oils and lots more
Gentle on skin and eco friendly. Made in Scotland, UK.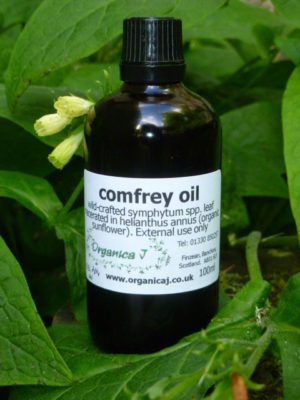 Our comfrey macerate oil is beautifully green and luscious oil, in premium condition. Buy it now.
Loved by a tired skin in need of replenishment and also used since ancient times for sprains, strains, ligament issues and arthritis relief.  
We use our comfrey in our top selling comfrey ointment, gardener's hand balm,herbal foot balm, skin SOS balm and reflexology balm.