Scottish Comfrey Ointment
The comfrey used in this ointment is harvested by hand from a controlled piece of private ground in a rural area of Aberdeenshire. Only the most perfect leaves are selected (again by hand) for optimum efficacy and slowly macerated (cold) in organic sunflower oil.
Wildcrafted Comfrey Products
Shop our range of organic ointments containing comfrey gathered in Scotland.
Organic Soap
High percentage of organic olive oil – moisturising and conditioning on skin combined with organic coconut, organic sustainable palm and organic sunflower along with the finest of organic essentai oils. Long lasting and leaving sikin clean and silky smooth.
Welcome to Organica J
For the past 18 years we have been creating pure and organic products made using Scottish ingredients. Our artisan products are always cruelty free and are suitable for sensitive skin.
Comfrey ointment is one of our most popular products and hundreds of people throughout the UK are appreciating the benefits.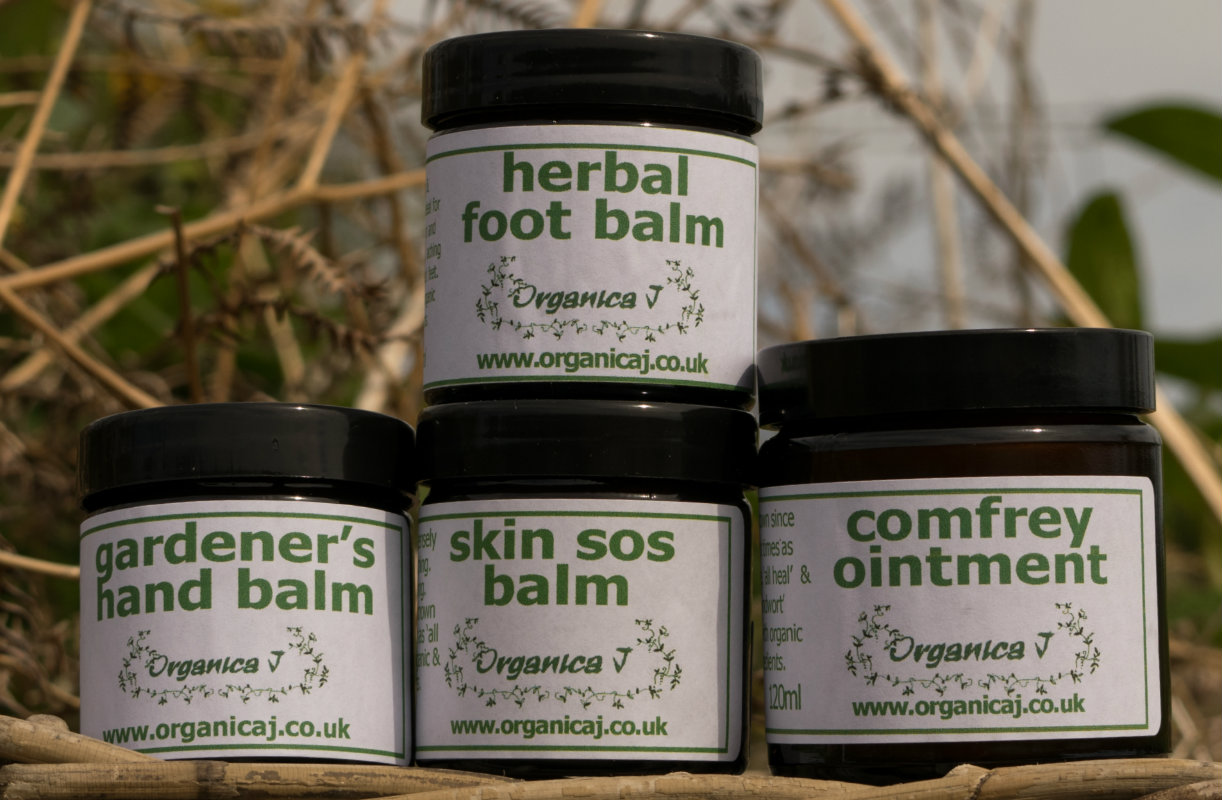 About our Comfrey Ointment
Buy our premium quality comfrey ointment today.  The ointment is made from hand selected plants in a rural, protected environment in Aberdeenshire Scotland, UK.
emollient and soothing it can be used for scars and blemishes.
for joint and muscle aches and pains
for ligament and tendon issues
for minor cuts and bruises
kind on sensitive skin
GM free and no animal testing
easy to use in an ointment format
"After being diagnosed with arthritis, I tried using your muscle rub and the comfrey ointment. They have eradicated the problem for me and I have found great relief. I have been recommending them to my friends"
Mrs G Burnett
 I have been asked by a few clients recently about the problem of cellulite.  It is an issue that is seen almost exclusively in women.  Cellulite starts with a build-up of toxins that the body reacts to with water retention to try to dilute the toxins.  The connective...
read more
The Skin SOS Balm was developed following many requests from customers for a product that would specifically help with scars, and minor skin issues, The Balm contains a rich blend of powerful organic carrier oils and essential oils, which can be helpful on psoriasis and eczema-prone skin.
Organic Soap
Long lasting and leaving sikin clean and silky smooth. Free from preservatives, colourings and animal by-products. Suitable for vegetarians and vegans. No animal testing or GM.