Organic Aromatherapy and Comfrey
Scottish comfrey ointment, organic handmade soaps, organic essential oils, natural beeswax candles
gardeners hand balm
organic calendula ointment for eczema-prone skin, organic bath and body oils and lots more
Gentle on skin and eco friendly. Made in Scotland, UK.
We wish you a Happy and Healthy 2018! We will reopen on Thursday 4th January and Friday 5th January from 1-4pm.  Normal hours from Monday 8th January.  Thank you for your custom.
Go organic in 2018, we have lots of products to give your year a fantastic healthy start – including  Organic So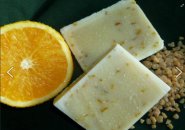 ap, Aromatherapy Bath & Body oils and Natural Beeswax Candles.
We use our own comfrey macerate  in our top selling comfrey ointment, gardener's hand balm,herbal foot balm, skin SOS balm and reflexology balm.
New stocks just in:  Lavender, Basil, Ylang Ylang Organic Essential Oils, Sweet Almond & Calendula Macerate organic carrier oils