Gardeners Hand Balm is one of our best selling products, which contains our own hand harvested comfrey. Great for this time of year for all gardening hands. Many customers are not gardeners, but love using this extra rich moisturising balm for restoring skin on all types of hands.
Great healing & moisturising for hands that may be:
cut,

grazed,

chapped,

roughened

dry

sore

or simply exhausted.
Recommended to use as a treatment for tired hands at the end of the day. Keep by your bedside. After application this very rich, nourishing balm soaks into your skin to moisturise, soothe and protect. Our own wildcrafted comfrey is one of the main ingredients in the balm, which helps your skin regenerate while the organic essential oils heal, soothe and protect. Lavender for its antiseptic and skin healing properties, rose geranium is so balancing for all types of skin, and lemon to give a protective antiseptic & bactericidal properties. We get so many clients feeding back that they notice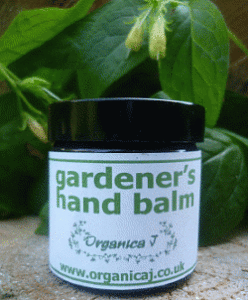 after a few days application how different their hands feel. A little goes a very long way with the Balm. As it is so rich, only a small amount needs to be used in each application, and makes this an economic, as well as highly effective hand balm.
We also have many customers who like to use this for hands that have rheumatism and arthritis as the comfrey and lavender in the balm can be extremely helpful for these conditions with regular use.
We don't use any preservatives in the Gardeners Hand Balm, as they are not necessary. We use organic rosemary extract as an anti-oxidant for promoting the Balms longevity. So you can be assured that you are using a totally natural product.
The Gardeners Hand Balm is available in a 60ml glass jar, ideal for recycling.
Ingredients: *helianthus annus (sunflower), ~symphytum spp. (comfrey leaf), *prunus dulcis (sweet almond), *cera alba (beeswax), *triticum vulgare (wheatgerm), *lavandula angustifolia (lavender), * pelargonium graveolens (rose geranium), *citrus limon (lemon), *rosmarinus officinalis (rosemary extract), citral, geraniol, citronellol, limonene, linalool. (from essential oils).
* organic ingredient ~ wildcrafted ingredient