I am delighted to introduce the new I Am Calm Collection to Organica J's artisan aromatherapy organic skincare range.
We offer three new After Shower, Bath & Body Oils. Use after shower, in the bath, as a body moisturiser or massage oil.  The I Am Calm After Shower, Bath & Body Oils can be used as a meditation aid/tool.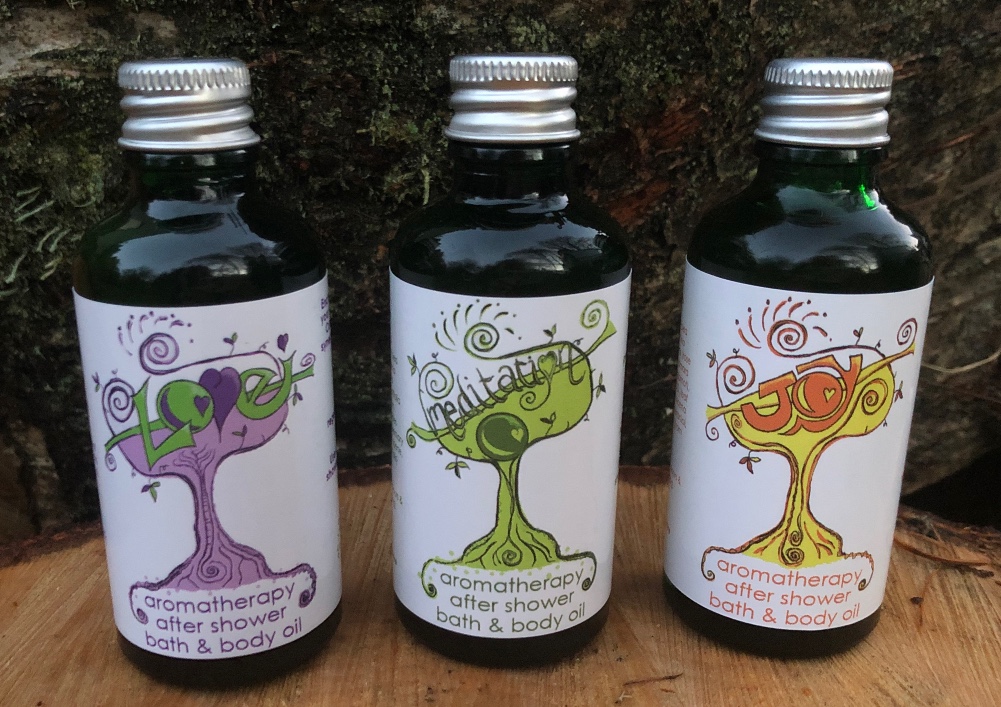 Meditation and Calmology
I formulated these oils while undertaking a two year Calmology course with Sandy C Newbigging. Sandy is a best selling author, therapist and I found him to be an inspirational teacher. I graduated as a Calmologist in November 2020. I enjoy my meditation practice greatly, and I occasionally offer teaching too. It has brought me personally so much more peace, calm. It was a very natural progression for me, as an aromatherapist to create new aromatherapy products that can be used to promote peace and calm, joy and love in those who enjoy them.
Arnie Creations
I worked in collaboration with my dear friend Andrea at Arnie Creations. on this project She is a wonderful artist, and art therapist, who is an extremely experienced meditator. In lockdown, she voluntarily led a meditation group online to connect with and support people. Andrea created the wonderful artwork on the new I Am Calm Collection. Another incredibly inspirational human being! Thank you, Andrea 🙂
Vegan, Nut Free, Gluten Free Blends
The oils contain a vegan, nut free, gluten free blend for the ultimate skin experience – intensely nourishing and regenerating organic carrier oils blended carefully with organic essential oils.  100% organic ingredients.  preservative, SLS and petrochemical free.
I Am Calm Organic Aromatherapy Blends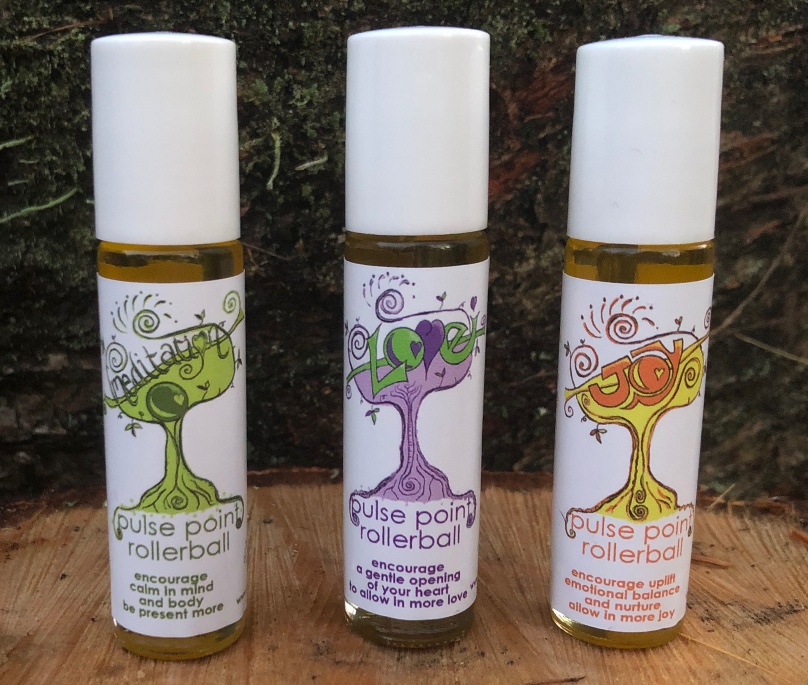 Choose from:
Love – this blend encourages a gentle opening of your heart to allow in more love.  This is for all types of love – for self, friends, family, partners, all people and the world we live in. Connect with the power and synergy of this love-filled organic blend.  Be Love more
Meditation –  this blend encourages calm, allowing in stillness of the mind and body.  Connect more with your conscious awareness in the present moment with this organic blend. Be Present more
Joy this blend encourages uplift, emotional balance and deep nurture. It creates the opportunity of allowing in more joy. Connect with the strength and synergy of this joyful organic blend.   Be Joy more.
Pulse Point Roller Balls
These fabulous blends are also available in Pulse Point Roller Balls so you can enjoy Love; Meditation and Joy blends in this easy to use format too. They are small, and incredibly portable so you can pop them in your handbag or pocket and take your pulse point with you to work, or indeed anywhere. When you feel that you need a boost of calm you can apply the pulse points.
Use these roller balls on pulse points on the neck or wrist when you need to be calm. These powerful, but gentle blends of aromatherapy organic oils can also be used as a meditation aid/tool.  
The After Shower, Bath & Body Oil comes in a 50ml bottle, and the Pulse Points come in a 10ml roller ball. All containers and lids are recyclable. c