Templars Antiques – Living The Dream
"At last!" says owner Gabrielle, "I have my own shop – Templars Antiques. Finally, after working in various hospitality and retail family ventures over the years".
She grew up in a fabulous old mansion house on the River Dee. It was steeped in history, and full of interesting old things, which instilled in her a passion for old things, curios, and a love of nature. Gabrielle bought an old house three years ago, near the shop, which has been totally renovated in a traditional style, and is still a work in progress.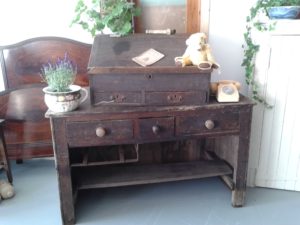 "My CV is eclectic", says Gabrielle,  "I have worked overseas in Spain, India, Egypt, France, Dubai, and I loved working on boats and at sea.  That started with a stint on a diving ship thirty years ago, after which I went to work on the rigs, and over the years, a small cruise ship, canal boats in England, and five-star barges on the Seine in Paris".
She also worked at the Antiques fairs in Aberdeen many years ago, and the overseas jobs ranged from teaching to adventure holidays for the single traveller in Goa. Gabrielle has a seven year old daughter, her name is Safiyyah.  She met Safiyyah's father when she was teaching Bedouin children English at a private school in the Sinai Desert. This is a small snapshot into Gabrielle's extremely varied and interesting life!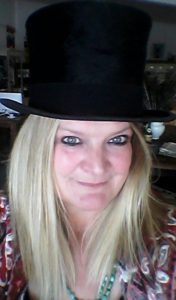 Although the shop is named Templars Antiques, it also stocks vintage, collectables, reclamation, and work by local artists. Gabrielle says that "I was delighted to meet Jacqui and stock Organica J products, and I'm very happily working my way through them all, so I can give first hand reviews, they are all fabulous!"
She continues "The 'aching limbs' bath oil is saving me at the moment, as I'm moving so much furniture around.  The gardeners hand balm is sublime, perfect for hands that take a daily beating with painting sanding, and generally hoofing stuff around. I hope to soon expand the range of Organica J within Templars Antiques, but I already stock a great selection".
You can view my shop and stock using the following links:
or www.templarsantiques.com even better, come and visit!