After so many requests from both my online clients and the lovely outlets and therapists who stock Organica J products, I took the opportunity in lockdown in 2020 to formulate and test on willing human volunteers and am delighted to now be bringing my first shampoo bar to launch this week.
Black Out
I have a number of products that I formulated and tested in lockdowns, but we were hit on Black Friday (very aptly named this year as all went dark!) with a massive storm which resulted in no power for 6 days and no internet for 10 days. A little challenging running the business at one of the most hectic time of year for orders. I found out just how much things I could do with no power! It was lucky that the storeroom was full of balms and soaps, and I could merrily make the Bath & Body oils, Pulse Points and wrap soaps to my hearts content – and did!!
I had to find a friend with power and internet connectivity (unfortunately at a distance to travel). I moved the office equipment on Monday, as it was obvious that this was a long haul. So after a time where my calming blends, energy giving blends, and meditation were much needed to see me through (along with much business support and otherwise from my daughter and other friends) all is smoother now – phew!
Shampoo Bar Launch
I am absolutely delighted to be now in a position to start launching my new products and I am proud to introduce my new Gentle Shampoo Bar.
The Gentle Shampoo Bar is suitable for all hair types. It is incredibly gentle, with extremely effective cleansing and also very nourishing for hair. You can enjoy this amazing cleansing without chemicals too, which I know is so important for you all (as it is for me).
The gentle shampoo bar is also ideal for those with sensitive skins and scalps.
Uplifting Essential Oils
The bar is very delicately infused with uplifting and calming sweet orange and mandarin organic essential oils, which are lovely on hair and widely enjoyed by many. I used to always say to my aromatherapy clients 'the sunny faces' of sweet orange and mandarin. They cheer up any day and bring brightness and uplift with their calming presence. So the gentle shampoo was always going to have them in it. From some of the testers, the feedback was that they wanted a stronger fragrance, which I understand totally, but with essential oils on a subtle level the 'less is more" is one of my favourite sayings! Along with the restraints of cosmetic safety regulations, the levels of oils remain as they were.
How To Use the Shampoo Bar
To use the gentle shampoo bar – work up a gentle lather between your hands then apply to hair, then rinse as normal. Please note that the lather is creamy and light, not huge bubbles, as you would find with a chemical product. You can apply again to hair and then rinse again. Some of the testers replied that they wanted to finish with their hair conditioner, but not everyone by any means. So if you need to, apply your hair conditioner and rinse to finish. You will find the gentle shampoo bar Incredibly gentle and protective for your hair, not stripping out the naturally present oils with harsh chemicals.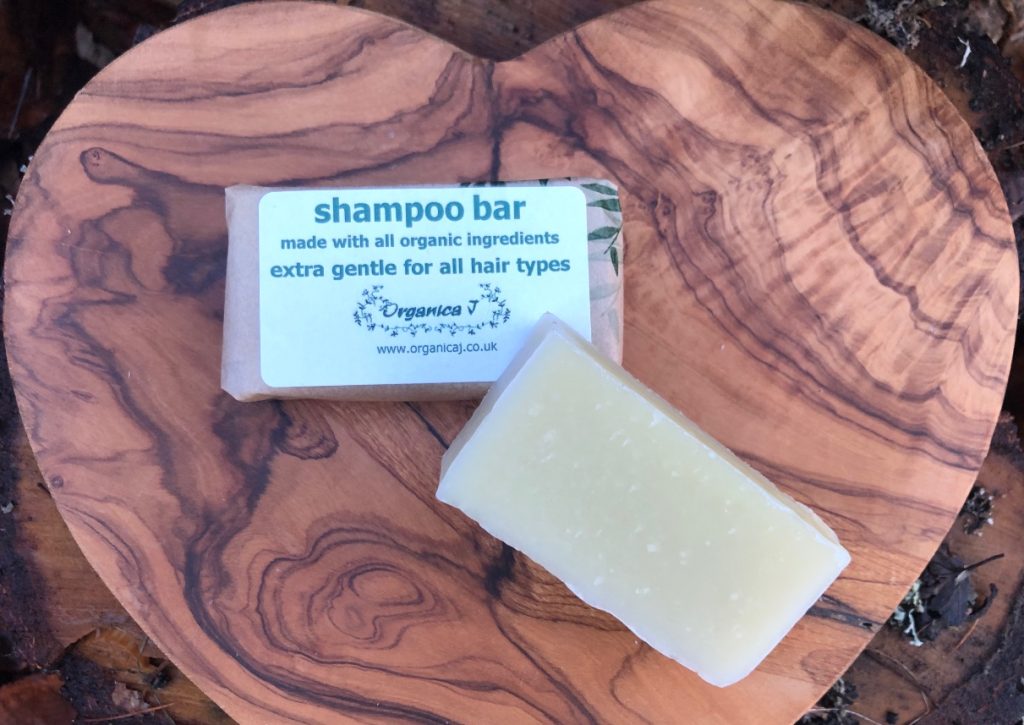 I have been told my my hairdresser, Pauline (she is an amazing woman!) that my hair is so much better condition since I started using my own products and also reduced the amount of times a week that I wash my hair too (I have very dry hair – with very sensitive skin)
Vegan Friendly
The gentle shampoo bar is made with. 100% organic ingredients. It is suitable for vegans, and is a gluten free recipe. You will find no preservatives, SLS , GMO or petrochemicals in it. It is, of course, not tested on animals. I do not want to use, never mind make, any product that is.
To be fully supportive of our delicate environment, the gentle shampoo bar is in plastic free biodegradable packaging.
I found that different folk like different sizes of bar, so you can choose from 90g and 45g bars to see what fits with you best.
Only Organic Ingredients
Here are a list of the organic ingredients:
sodium olivate (olive), sodium cocoate (coconut), sodium castorate (castor), sodium shea butterate (shea butter), sodium almondate (sweet almond), sodium jojobate (jojoba), citrus sinensis (sweet orange), citrus reticulata (mandarin), limonene, linalool, citral (from essential oils)
I hope that you all enjoy our new Gentle Shampoo Bar – buy it here.