Welcome to another of Organica J's Top Ten Uses! This month will be focusing on 10 helpful uses for patchouli essential oil (pogostemon cabin). Often I hear patchouli get a bad rap from how it was over used in the 60's, but for feeling the power of love – all kinds of love, not just romantic love, including accumulating self-love – it is a very fabulous oil. I have patchouli as an ingredient in my very popular essential oil Love essential oil blend and Love Soap
When working as a clinical aromatherapist I often use Patchouli, it has an incredibly distinctive fragrance, yes, but the joy of this is you need so little patchouli to make an impact and underpin/hold together a gentle, soothing and loving blend. In a blend I would make up for doing aromatherapy massage with a client, if Patchouli was what they needed to be in the blend that day, often the blend only contained 1 drop or perhaps 2 of Patchouli for its positive impact to be felt. The oil in aromatherapy is synonymous with skincare and much used as a perfume & incense base too.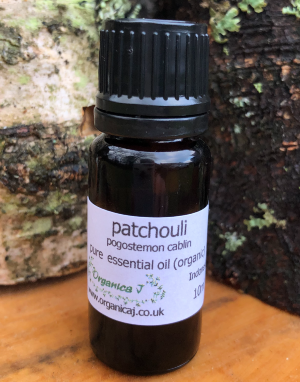 1. Can be calming on irritated or inflamed skin.
2. May help reduce anxiety & low moods
3. Good for fungal skin issues & dandruff
4. Suitable for a sensitive skin & skin prone to allergies.
5. Can be soothing for damaged skin & eczema-prone skin
6. It can be helpful in stress reduction
7. Rejeuvenating & regenerating for mature skin
8. Can be helpful to reduce fluid retention
9. Can act as an insect repellant and be helpful for bite treatment
10. Calming for an over active mind, due to over thinking or worry
The patchouli I have in stock right now is from Indonesia . The patchouli essential oil is a brown viscous oil. It has a rich fragrance, sweet/spicy/rooty with incredible depth. Patchouli is a bushy plant, with big, soft, furry green leaves and small flowers. The whole plant growing up to a metre in height. It is necessary to rupture the walls of the patchouli leaf before steam distillation to create the essential oil
If you wish to use this oil on skin always blend in a carrier oil, as a rough guide 1 drop of blend to 5ml of carrier oil
If you feel this would be a useful oil for you, you can buy organic Patchouli essential oil from Organica J.
For using essential oils for specific or complex medical problems always contact a qualified aromatherapist or check with your GP.