Organica J will be joining with Stirling Health Food Store this Saturday 26th July 2014 to celebrate and highlight Scottish Produce with their Taste of Scotland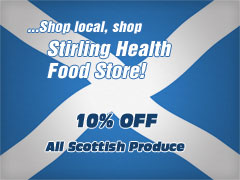 event.  From 21st July to 3rd August Stirling Health Food Store, for the fifth year in a row,  are offering offering 10% discount on all Scottish products in the shop.
This Saturday, Josine and her team and Stirling Health Food Store will be organising a free tasting and testing session outside the shop on Saturday 26th July.
Organica J will have organic soap testers for you, and samples of the ointments and balms made with organic ingredient,s including the best selling comfrey ointment, to try on the day.  I will also be on hand to answer any health, aromatherapy or product questions that you may have.  I look forward to seeing everyone.
This year Stirling Health Food Store have decided to hold their Taste of Scotland event  at the same time as the Commonwealth Games is on in Glasgow, to show support to the Scottish athletes.   In the shop there is a 10% discount on products like: Oatcakes, local honey, handmade skin care, toiletries, Caurnie soaps, Aberfeldy oatmeal, handmade chocolate and biscuits.
By Jacqui Christie