Gardener's Hand Balm
0SHP04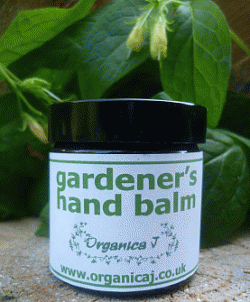 Great healing & moisturising for hands that may be
cut,

grazed,

chapped,

roughened

dry

sore

or simply exhausted.
Recommended to use as a treatment for tired hands at the end of the day. Keep by your bedside. After application this very rich, nourishing balm soaks into your skin to moisturise, soothe and protect. Our own wildcrafted comfrey is one of the main ingredients in the balm, which helps your skin regenerate while the organic essential oils heal, soothe and protect. Notice after a few days application how different your hands feel. 60ml.
Why not enjoy our exfoliating and moisturising Gardeners and Cooks Soap before using your Gardeners Hand Balm - and don't forget your treat your feet too with our Herbal Foot Balm or Reflexology Foot Balm.
Ingredients: *helianthus annus (sunflower), ~symphytum spp. (comfrey leaf), *prunus dulcis (sweet almond), *cera alba (beeswax), *triticum vulgare (wheatgerm), *lavandula angustifolia (lavender), * pelargonium graveolens (rose geranium), *citrus limon (lemon), *rosmarinus officinalis (rosemary extract), citral, geraniol, citronellol, limonene, linalool. (from essential oils).
* organic ingredient ~ wildcrafted ingredient
What our customers think:
"Thank you for sending your excellent foot balm, gardener's hand balm and lavender oil to me in North Uist so quickly.-it's great to find products that really do work so well. My husband has always had problems with finding products for his dry skin. We're in the process of building (self-building) a house here and your hand and foot balms are a real help. Thank you very much". P. MacPherson, North Uist, Scotland
"We have found Gardener's Hand Balm good for soothing sunburn. It is wonderful stuff and anytime I get some problem with my skin I always use it. The skin just seems to love it!" A. Lewis, Devon
"Good for use last thing at night, keeps my hands protected and it lasts a long time" L.S. Logie Coldstone, Aberdeenshire
"My hands were noticeably soft after using Gardener's Hand Balm, much better than other hand creams I've tried." J.H. Auchenblae, Aberdeenshire
"I love your gardener's hand balm : )" LB, Aberdeen.