Frankincense (boswellia carteri)
0EO051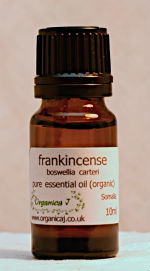 Frankincense can alleviate anxiety and stress. It may be wound healing and an immunostimulant.
May be helpful for respiratory conditions. Can be excellent for dry, mature skin conditions and scars.
On a subtle level - frankincense is an oil that is often used to aid meditation, and for those who wish to put the past behind them and move forward positively.
Country of origin - Somalia
10ml