Skin SOS Balm
OSHP07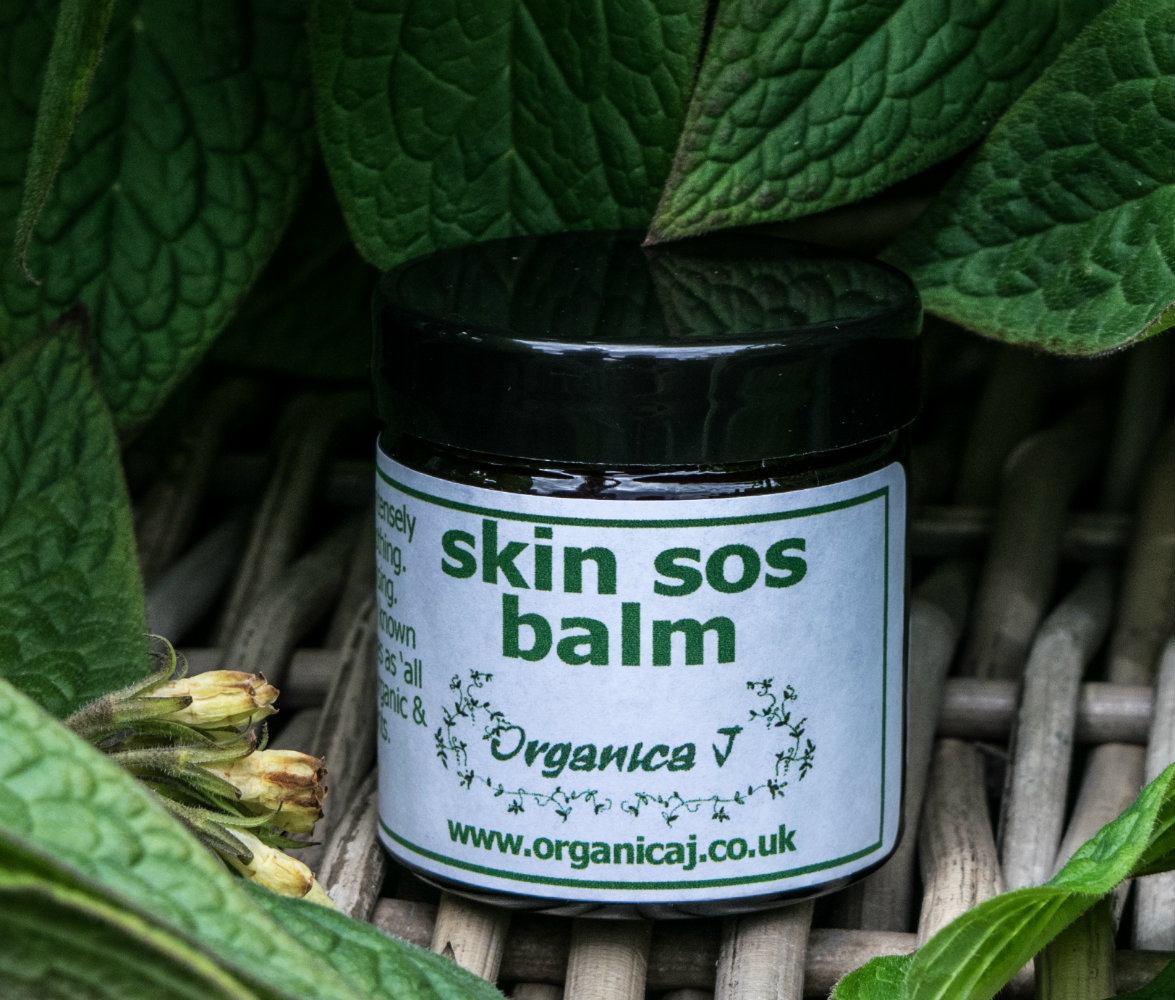 The Skin SOS Balm was developed following many requests from customers for a product that would specifically help with scars, and minor skin issues, The Balm contains a rich blend of powerful organic carrier oils and essential oils, which can be helpful on scars, also on psoriasis and eczema-prone skin.

Protective, calming and regenerating. With the use of the carrier and essential oils this balm penetrates the skin effective nourishing to a deep level.
Made with 100% organic and wild crafted ingredients including our own comfrey harvested in Aberdeenshire.
Use for new tattoos or after tattoo removal. As part of the development stage, the balm was also tested by several tattoo studios in Aberdeen, Ayr and Manchester. It was noted that the balm was most effective when used regularly and covering the whole skin area affected.
Sizes 15ml £3.90,30ml £5.65, 60ml £8.25, 120ml £13.99
What our customers say:
'I have been a tattoo artist for over 22 years and over that time have used many different after care products. I have been using SOS Skin Balm from Organica J for nearly a year now, having agreed to test the product pre-launch. The feedback from my clients has been fantastic. Comments such as "it heals it quicker"; "the ink stays bright"; "easy to apply. I also apply it during and immediately after the tattooing process and have been very pleased with the results. It also smells better than some of the alternatives!' Carl Egan, Ink Spot Tattoos, Manchester
"We had the privilege of trying this new, locally made skin healing cream to assist in the healing of tattoos. We put it to the test with staff and willing customers alike and the feedback was impressive. Comments ranged from the lovely smell and consistency to how much it actually helped the skin heal quickly and efficiently after tattooing, as well as for other skin conditions such as dermatitis, eczema and psoriasis. Skin was left feeling very soft and most importantly, soothed. The balm can applied to the skin easily as it "melts" very quickly and spreads very well, so only small amounts are needed." Scott Bowden. Rebel Ink. Aberdeen

'Can you to send me another pot of the Skin SOS Balm as I am liking it a lot. It took away a largish non-cancerous mole that I had had for a while, just leaving it with a feint mark and so now I am applying it to some small tags I have on my body. Meanwhile I am using it for other marks and blotches and feel that it is doing them and me good.' A. Amison, Bognor Regis.

'I used the balm on my new tattoos, it worked perfectly and they healed quickly. It wasn't sticky and didn't smell strongly like some of other brands I've used before. It really did the job. Sam Simpson, Montrose.

Ingredients:
*helianthus annus (sunflower), ~ symphytum spp. (comfrey leaf), *olea europea (olive) *cera alba (beeswax), *rosa canina (rosehip), *triticum vulgare (wheatgerm), *lavandula angustifolia (lavender), *rosmarinus officinalis (rosemary extract), *matricaria recutita (german chamomile), *daucus carota (carrot seed), *helichrysum italicum (everlasting), limonene, linalool, geraniol, eugenol, coumarin (from essential oils).
~ wildcrafted ingredient, *organic ingredient