Geranium & Rose Petals
0BCS003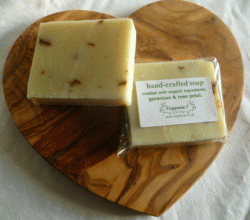 Gentle on a more sensitive skin, with balancing rose geranium essential oil and delicate rose petals.
Hand crafted soap, a luxurious treat that you will not want to share or choose as a special gift that you know will be savoured with each soft bubble.
A firm soap with a soft lather that just lasts and lasts
Made in Aberdeenshire, Scotland with a blend of organic vegetable oils & fragranced with organic & wild-crafted essential oils & flowers.
Free from any preservatives, colours, animal by-products or testing
Organic ingredients: sodium olivate (olive), sodium cocoate (coconut), sodium palmate (sustainable palm), sodium sunflowerate (sunflower), pelargonium graveolens (rose geranium), rosa damascena (rose petals), citronellol, geraniol, citral (from essential oils)
45g £2.90; 90g £4.70
Also available in lavender & lavender flowers, Peppermint & peppermint leaf, Rose Heaven, Meditation, Love, Orange and Frankincense
What our customers say:
"I've just placed an order for some more soaps, I couldn't think of using anything else in the shower. With our first baby on the way it's been great to use a product that doesn't dry my skin or bring me out in a rash. I would go as far to say its one of life's little pleasures : ). K Gaffney, Aberdeenshire
"The soaps feel really lovely on my face. They also have a gorgeous lather - even though we live in a hard water area. I have one of your soaps in each bathroom and one in the kitchen!" C P Sanderson-Spafford, Scunthorpe