Peppermint & Peppermint Leaf
0BCS005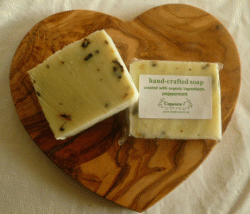 Kind and gentle to your skin with uplifting and invigorating peppermint with peppermint leaf.
Hand crafted soap, a luxurious treat that you will not want to share. or choose as a special gift that you know will be savoured with each soft bubble.
A firm soap with a soft lather that just lasts and lasts
Made in Aberdeenshire, Scotland with a blend of organic vegetable oils & fragranced with organic & wild-crafted essential oils & flowers.
Free from any preservatives, colours, animal by-products or testing
Organic ingredients: sodium olivate (olive), sodium cocoate (coconut), sodium palmate (sustainable palm), sodium sunflowerate (sunflower), mentha piperita (peppermint oil & leaf), limonene, linalool (from essential oils)
45g £2.85; 90g £4.60
Also available in Meditation, Peppermint & Peppermint Leaf, Orange & Frankincense, Rose Heaven, Love,Geranium & Rose Petal.
Organic Soap Gift Box and Organic Soap Gift Box Two - perfect for Birthdays, Christmas or any special occasion.