Gardeners & Cooks Soap
EBC007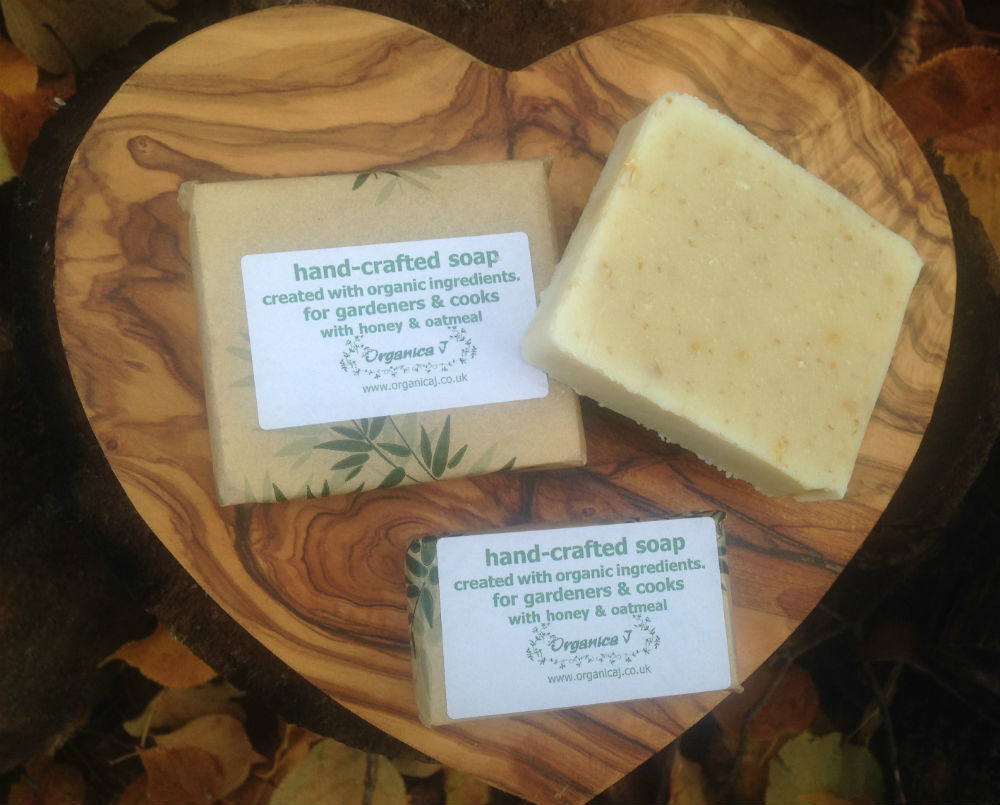 Gardeners & Cooks soap. Customers asked for a soap that was both citrus and exfoliant, and so here it is!
The soap is still very gentle on skin using our traditional and fully natural/organic soap base of organic olive oil, coconut, palm (sustainable) and sunflower oils. It is a hard cake of soap with a soft lather, which lasts and lasts. It contains essential oils of lemon and lime, which are excellent for using in a kitchen environment, as well as the bathroom. They provide a refreshing, cleansing fragrance and are reputed to have disinfectant and antiseptic properties.
The other ingredients are Scottish honey and oatmeal. We are using a heather honey, that is produced from hives, situated in the hills in our own village of Finzean, Aberdeenshire, Scotland to ensure the purest honey from our own local bees. In the soap, honey is a wonderful addition, that provides an additional moisturising and soothing properties, as well as being full of antioxidants.
The organic oatmeal is also local to Aberdeenshire, The Oatmeal of Alford and produced by the company at Montgarrie Mill. in the soap it provides a gentle exfoliant effect, which we thought was ideal for all the gardeners and cooks out there who need to look after their hands.
Made in Aberdeenshire, Scotland with a blend of organic vegetable oils & fragranced with organic & wild-crafted essential oils.
Free from any preservatives, colours, animal by-products or testing
Why not try our Gardeners Hand Balm to deeply nourish your hands after using our soap.
Organic & wild crafted ingredients: sodium olivate (olive), sodium cocoate (coconut), sodium palmate (sustainable palm), sodium sunflowerate (sunflower), arena sativa (oat) kernel meal, citrus lemon (citrus aurantifolia), honey, limonene, linalool (from essential oils)
45g £2.90; 90g £4.70
Also available in lavender & lavender flowers, Peppermint & peppermint leaf, Rose Heaven, Meditation, Love, Orange and Frankincense, geranium & rose petal
Choose your size
45g (0) 90g (1.75)